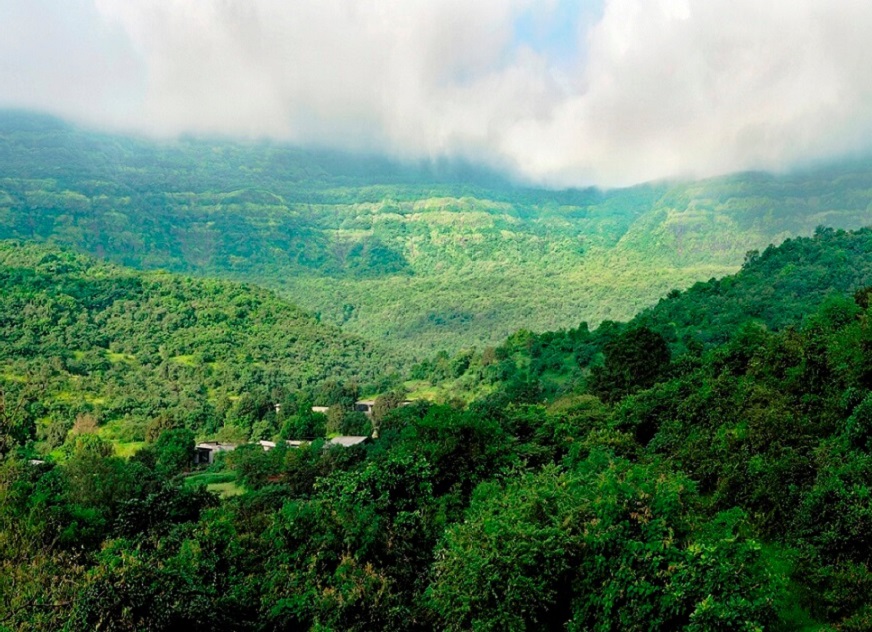 The Shillim Institute is nestled in the lush greenery of a forested wilderness that is picturesque and beautiful. The Institute is set aloft on the Sahyadri mountain range, older than the Himalayas. Numerous streams run down the steep wooded slopes, joining the main river at the valley floor. The plant palette has been guided by the natural conditions of the site. The Western Ghats is one of the 25 biodiversity hotspots known across the world and a UNESCO World Heritage Site.
Though the Western Ghats area covers barely 5% of India's land, 27% of all species of higher plants in India i.e. 4,000 of 15,000 species are found here. The Western Ghats was declared an ecological hotspot in 1988, due to the efforts by Norman Myers. There are many protected areas like national parks, wildlife sanctuaries & biosphere reserves throughout the mountain range. Apart from having an intrinsic biodiversity value the Western Ghats mountain range provides catchment area to all the major rivers feeding the entire Indian peninsula.
The Shillim Valley comprises of high mountain ridges, buttes, forest benches, to rice fields and plateaus. Twenty-eight tributaries enrich the land before ending up in the watercourse in the valley. The forest boasts of numerous mature trees considered as sacred groves. The Shillim area is home to species like Indian Gaur, Giant squirrel, Wild Boar, Gray Langur, Deer and many more species unique to the Sahyadris. And when it comes to some of the plant species, the important names that come up include Holigarnagrahamii, Knemaattenuata, Memecylonumbellatum, Memecylontalbotianum, to name a few.
A three-hour drive from Mumbai's urbane cacophony, the Shillim Institute overlooks the serene Pawana Lake. The landscape is majestic and comprises lush rice fields, fertile valleys, breathtaking forests, and clean and crisp air.